Albert J. McCarn
August 10, 2023
The last two days in Israel went by in a blur. Even more of a blur than the first eleven days. The purpose of this trip was the Ten from the Nations Tour by the Nations' 9th of Av. It's one thing to go to Israel to celebrate the Feasts of the Lord, but it's quite something else to fast and mourn with our Jewish sisters and brothers. The fast was difficult, but also hopeful, exciting, and filled with joy at the prospect of the Almighty fulfilling His promises to restore all Israel. It's an excitement we all felt, especially our Jewish friends. They're not accustomed to Christians (and we're all Christians in their eyes, even if we've left the traditional church) recognizing that the Fast of the Fifth Month (Tisha b'Av, or 9th of Av) is a thing, much less coming to Israel to take part in it. When I explained what we were doing to one of my new Jewish friends (Uri, who sold me t-shirts), he said, "You've made my day." He's not the only one who said something like that.
The last day of the tour took us back to Samaria to meet more of the simple, ordinary people doing extraordinary, prophetic things. We had already met many such people in Samaria and Judea, as well as Jerusalem. Shlomo Keshet of Adva Soap in Kochav HaShachar is one of them. He's a hero, but he won't tell you that. His family was removed from Gush Katif in Gaza when the nations of the world convinced the government of Israel that Jews were no longer welcome in that part of the land God gave them. That's when they moved to Samaria, where Shlomo learned how to make soap from local herbs. That's his business now – a business that remains open because the Nations' 9th of Av interceded in prayer when Shlomo told us earlier this year that he could no longer afford to keep operating. It's important that Adva remains in business, but not for the products alone. Shlomo employs special needs people at full salaries to do the work in his factory. That includes his own son, who has Downs Syndrome. He gives them dignity and purpose, and they respond with gratitude and a full day's work. Buying from Adva not only provides health benefits for the skin, but makes a statement about the intrinsic value of all human beings. That's why my friends at Blessed Buy Israel carry Adva's products.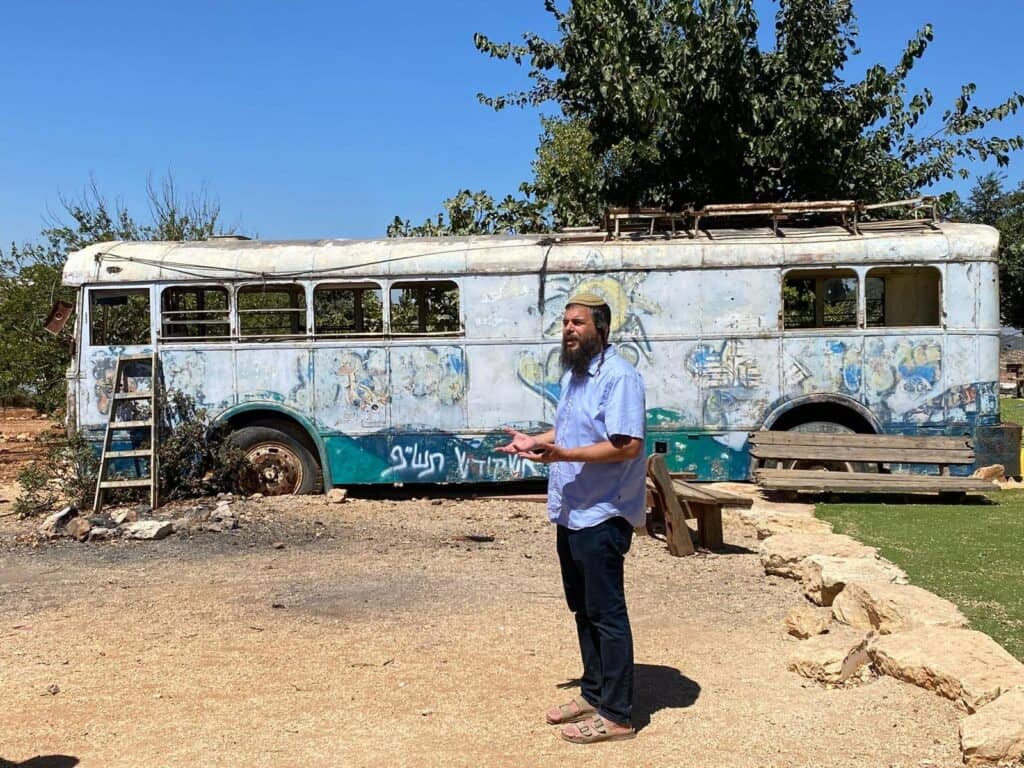 Nati Rom explained a little more about human values from a different perspective. His career as a Jewish settler (as the world would call him) began when he and three friends finished their military service. They quickly realized that they could make a great impact on the future of Israel by establishing communities in Samaria that would connect the Jordan Valley to the rest of Israel. He and his family have done that several times, and now have shepherded the community of Eish Kodesh into a thriving little town. They have overcome much opposition in the process, such as living in an old bus for several years before they could build a proper house. Nati showed us their new synagogue, which is still under construction, and the new family housing units going up on the north side of town. One family at the farthest edge of the community has just moved in and is living in a tent. They'll soon be building their own home, just a few hundred meters away from an Arab town.
Regarding those Arab towns in Judea and Samaria, I asked Nati about something I said in an earlier post: why Jewish communities are thriving and green and pleasant, but the Arab communities look like dustbins. He said it's the difference between renting an AirBNB, and living in your own home. If you're staying in someone else's home, like a BNB, you don't really care about keeping it up or making improvements. If it's your home, you want to make it comfortable and productive. He's right. The Jewish pioneers know they are reclaiming their own God-given land, and that drives them to build communities, establish farms, and fill pastureland with their sheep and goats. The Arabs have no such motivation, and in fact probably wouldn't be there if there were no Jewish communities to provide employment. That's why the massive illegal building programs done by the European Union and others on behalf of Arabs on Jewish lands in Judea and Samaria will ultimately fail. As Nati said, it's a David and Goliath fight. The Jews have scarce resources and face opposition from the entire world, but they have the heart to obey their God and take hold of His promises. That's why they will succeed, just as their ancestors did in ancient and modern times.
Ancient and modern come together in Shiloh, Israel's first capital. The Tabernacle rested there for 369 years, from the time Joshua led the conquest of Canaan until the Philistines destroyed it in the days of Eli and Samuel. The archaeological work has uncovered ruins from Canaanite, Israelite, Roman, Byzantine, Crusader, Arab, and British periods, which spans almost the entire breadth of recorded human history. Oddly enough, there is no evidence of a Palestinian civilization there (or anywhere else in Israel). It makes one wonder whether the "Palestinian nation" is anything more than the figment of some power broker's imagination.
Shiloh was the last stop on our tour. From there we returned to Jerusalem for the gala dinner at the Modern restaurant, just across the street from the Knesset. It was my honor and pleasure to be the Master of Ceremonies. That meant I got to introduce MK Gila Gamliel, Minister of Intelligence, when she delivered the opening address. Having her there was an indication of the Divine favor on this entire enterprise. Where else would a government minister come to speak at such a gathering? But then, it's Israel, where everyone knows everyone, and God's favor is on the land and people.
The most moving address was by Rabbi Leo Dee, who lost his wife Lucy, and two daughters, Maya and Rina, in a senseless terrorist attack a few months ago. His grief is still evident, but this humble servant of the Almighty is processing it in a way that gives hope to us all. Can such a tragedy point to the coming of Messiah? Yes, Rabbi Dee says it can, and that's a great reason to take heart.
Robbie Frohlinger of Israel 365 and Tommy Waller of HaYovel carried that message forward in their remarks as they received our first annual Restorer of the Breach award. Robbie accepted on behalf of Rabbi Tuly Weisz, who is in the United States doing what he does best: bringing Jews and Christians together in relationships based on mutual respect and our common service to the God of Abraham, Isaac, and Jacob. Tommy shared his passion for bringing Christians to Israel in humble service to the land and people, again in conscious understanding that such a thing is a fulfillment of prophecy. Chris Mitchell rounded out the evening by sharing from his quarter century of observing this process up close as director of the Jerusalem bureau for Christian Broadcasting Network. And then we had music from Yehuda Katz, one of the most famous Hasidic artists in the world. I am overjoyed that I can call each of these men friends and brothers. That's the Divine favor I count as a blessing without end.
Leaving Jerusalem the following day brought tears to my eyes. It's the first time that has happened. I've connected with the Land and People of Israel in my previous visits, but not to this depth. My home for now is in South Carolina, but my heart from this day forward is in Israel. These beautiful, resilient, creative, faithful Jewish people are the future of the world. They have been the agents of global redemption since the day God called Abraham and Sarah. Now I look at inspiring sites like an Orthodox family out for an evening walk, and I know Israel has a bright, eternal future.